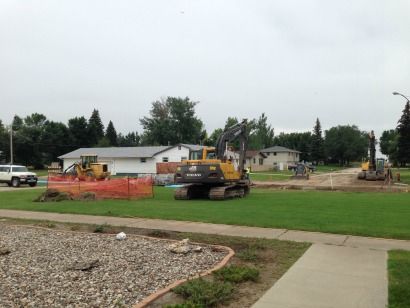 Bowman's long-awaited replacement hospital project is commencing!
Having achieved State and National-Level USDA project approval, onsite activities are now underway and will continue through targeted completion in September 2016.
Initial phases of work are scheduled to include site and physical plant improvements and will progress to the Long Term Care Facility's new Heritage Wing (Alzheimer's unit), activity room expansion, and remodel of nurses' station and some of the existing long term care rooms. By spring 2015, a substantial amount of work should be readily visible with the new hospital taking shape around the south side of the campus. Project phasing has been carefully developed to minimize disturbance to residents during the construction period and by fully developing the north wing LTC area in advance of the hospital, SWHS will be able to relocate residents away from the work zone. The last component of the project will be to relocate therapy services into the new facility, allowing for completion of the staff parking lot in the NE corner of the site.
"We're excited to witness the community's efforts to improve both infrastructure and health care services as the initial phases of the project are beginning to take place." said Becky Hansen, CEO of Southwest Healthcare Services.
The construction contract was awarded to Mortenson Construction of Fargo, ND whose recent projects include the Jamestown Hospital and Sanford Health's new Dickinson Clinic.
Southwest Healthcare Services is planning a groundbreaking ceremony and donor appreciation event on August 28 at 11:00am at the Long Term Care Facility with lunch to follow.