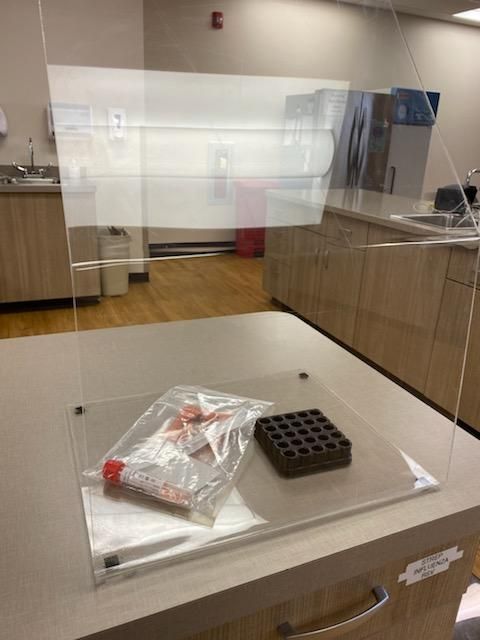 While much of the COVID-19 conversation has centered around face masks, hand washing, and test criteria, the lab at Southwest Healthcare Services has quickly adapted to the sometimes daily changes during this pandemic.
    According to Jodi Brewer, lab manager, while they have had to adapt to changes, most of those changes have been directed on keeping patient exposure to a minimum. Instead of taking labs for a patient in the laboratory, when they can, they go to the patient in the exam room. If a patient needs radiology services and labs, for example, the lab staff will meet them in one place, again, to limit exposure.
    "We're trying to go to the patient more," said Brewer. "Because it's all about limiting exposure."
    The providers and nurses have also stepped up to help. The providers have agreed to do most of the swabbing and blood draws. The nursing staff also help with swabs and draws.
   Within the lab itself, the maintenance department has helped the lab workers protect themselves from exposure. For the work they do with samples, a shield has been installed for them to operate behind. Brewer said her and her team were very grateful for the extra protection.
    All of the COVID-19 testing, however, is done through the state lab. Once a patient is swabbed, that sample gets put into a dirty bag which is then put into a clean bag before being brought to the lab. From there Brewer adds paper work and labeling before boxing it up. It's picked up once a day by a courier that transports the tests to the state lab in Bismarck.
    Multiple tests, in their separate specimen bags, are boxed together for optimum test result turnaround, which Brewer said has been about 24 hours. Exceptions are made for after-hours transport of testing specimens. That's based on the severity of the patient's conditions, "the [providers] will make that decision," said Brewer.
    Along with making some adjustments around the lab at Southwest Healthcare Services, Brewer said they've had to adapt to changes in directives from the North Dakota Department of Health. Early on Brewer said that they would get daily updates and changes, but lately it's been more stable, with contacts between them a few times a week.
    "It hasn't totally inundated us [to] where we can't function," said Brewer.
    Right now Southwest Healthcare Services is equipped to handle the testing the service area has required, and Brewer said that the department of health has been helpful in making that happen.
    "So far [the state] has got us everything we've asked for," she said.
    Regardless of how many changes, or directives the lab receives, Brewer and the rest of the lab has been able to keep up to serve the patients of Southwest Healthcare Services.