Speech Therapy
Southwest Healthcare Services, in partnership with RehabVisions, welcomes speech therapy services. Available on Wednesdays and Fridays, Heather Barber, SLP, offers a wide-range of evaluations including cognitive, swallow, speech/language, voice and AAC. Barber can also treat patients who have difficulty with speech, orientation, memory, swallowing, hoarse voice, finding words, understanding, problem solving and understanding.
Business Hours Monday through Friday 8 am to 4:30 pm. Closed from 12pm to 1pm for lunch hour.
Phone: 701-523-7848
Fax: 701-523-4878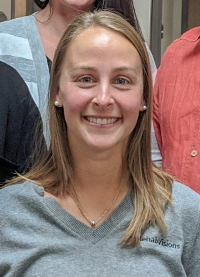 Meet Heather
Heather is originally from New Orleans, where she graduated from Southeastern Louisiana University with a Master's degree in Communication Sciences and Disorders. Heather is LSVT Loud certified and has training in electrical stimulation to aid in swallowing. Heather enjoys working with geriatrics and neurological disorders.