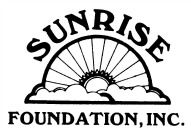 Investing In Rural Healthcare
Donors who wish to give to the Sunrise Foundation are helping to safeguard the future of healthcare. All gifts given to the Sunrise Foundation are put towards building the Endowment. Funds invested in an endowment can provide an ongoing stream of revenue.
The Sunrise Foundation grants financial assistance to Southwest Healthcare Services, as well as, local first responder units and ambulance services. Grants are awarded in January and July of each year. The generosity of many individuals throughout the years have made it possible to disperse funds annually.
Investing In Healthcare Education
Each year, the Sunrise Foundation Board of Directors award scholarships to deserving college students pursuing a career in healthcare. Eligible applicants must have completed their freshman year of college and have been officially accepted into their program of study. The Sunrise Foundation will accept applications from students originally from Bowman County, Slope County, Harding County, and western Adams County.
For gifts specifically towards the Sunrise Foundation Endowment, make checks payable to:
The Sunrise Foundation
Barbi Narum, Foundation Director
802 2nd St. NW – Bowman, ND  58623
(701)-523-5142
bnarum@swhealthcare.net
The Sunrise Foundation invests in the future of rural healthcare, especially through Southwest Healthcare Services.