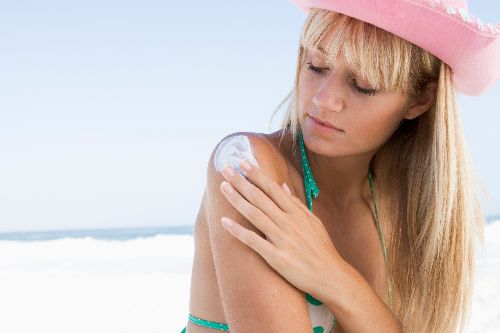 Did you know that skin damage from ultraviolet (UV) rays can happen even during cloudy days? But no matter if it's a day with constant overcast, or the sun is shining bright, the Centers of Disease Control and Prevention (CDC) has some tips on how to protect yourself.
1.) SHADE: Seeking protections from UV rays under an umbrella or a tree can reduce skin damage and skin cancer caused by lengthy exposure from the sun. But you shouldn't skip sun screen or protective clothing, even if you're sitting in a shady area.
2.) CLOTHING: Long-sleeved shirts and pants would be ideal to protect your skin against harmful UV rays. However, that's not always possible. Clothes with tightly woven fabric offers the best protection. Darker clothes and dry clothes offer better protection. Most t-shirts often have a SPF lower than 15, so be weary.
3.) HATS: Hats with brims all the way around, like a floppy garden hat, does a great job of protecting the face, ears, and back of the neck. If you wear a baseball cap, make sure to take measure to cover the back of the neck.
4.) SUNGLASSES: Wearing sunglasses is a great way to protect the eyes from harmful UV rays. Sunglasses that block UV rays. According to the CDC, most sunglasses, regardless of the price, meet this type of standard.
5.) SUNSCREEN: The CDC recommends a sunscreen with at least a sun protection factor (SPF) of 15 to protect against harmful UV rays. Make sure to double up on sections of the most exposed skin and remember to reapply if you're going to be outside for an extended period of time. Sunscreen works best when coupled with other forms of UV protection, like shade, sunglasses and hats. Make sure to check the expiration date of your sunscreen, especially if it has been sitting in storage all winter.
More information is available at www.cdc.gov. If you have any questions, or concerns regarding skin protection and treatment, call 701-523-5555 and make an appointment with any of our providers at Southwest Healthcare Services.